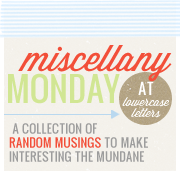 1.) I'm about to buy $25 dollars worth of music off Itunes and I am soo excited! .. No worries. It's a giftcard!
2.) I love picking out baby names for my children one day. Actually, planning for every special event in my life is fun for me! Call me weird if you would like.
3.) I have a new hobby! Jewelry making. I'm gonna make it big. haha
4.) My

lunch

at school today was horrible.
That reminds me.. I need to get groceries.
5.) I love the feeling during a church service when you just realize how much God loves you and how much he has blessed you. Man! Life is good!
Remember my brother. He had an injury to his rotator cuff today while training with the fire department (where he works). Praying that surgery isn't his outcome!