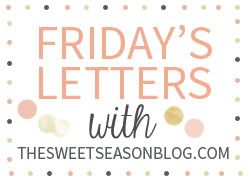 Dear Double Decker:
I can't wait to see you again. Please don't be miserable. I actually think this year's weather may be pleasant.
Dear Payday:
Why must you take so long? I've not been good this month and I kinda might need you soon. You should come see us sooner!
Dear Summer:
I'm not ready for grad school but I am ready for friend time, shopping, pool days and the lovely Mississippi heat. (i might be exaggerating there).
Dear mexican food:
We have a love/hate relationship. I absolutely love you when I am inhaling your goodness but then I feel full for 24 hours.
Dear Grey's Anatomy:
I was so glad you were new last night. I've missed you and tweeting all throughout the show.
Maybe I should have went to med school. hahahaha.
Dear career day at school:
let my kiddos have a great time and let them all grow up to be whatever their hearts desire. :)