Well, I haven't been the best "May blogger" so far. Sorry- this weekend included a little rest and relaxation for this sick lady. I wasn't feeling up to par and didn't touch a computer until today. Now, that tells you I was serious!
So, three ladies that I adore reading about. Their lives, their pictures, everything about them interest me and keeps me coming back for more, from day to day.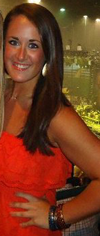 I adore this sweet lady, Hotty toddy yelling, baby nurse. She is the epitome of Southern Belle and loves her friends and family just as much as I do! I love that she shares her heart and knows how to do pretty much anything. She keeps me laughing at her escapades and crying with her in some of her hard times. Keep on keeping on, Rachel! So thankful I found you in this blog world.
Nicole- This sweet girl found me in this blog world! We were both students in the School of Education at Ole Miss and I fell in love instantly with her love for my Lord! She has a heart of gold and is a precious newlywed learning how to be married and share her life with the man of her dreams. Can't wait to see where her journey takes her!
Sami- I adore the words that this girl writes. Her fashion sense, funny stories and lovely Weekend Update link-ups are what drew me to her part of the blog world. She has some amazing insight and I can't wait to see where her blog and her hilarious spirit take her.
So, these are my daily reads. Hopefully one day my blog will be as successful as these three that I love checking out.